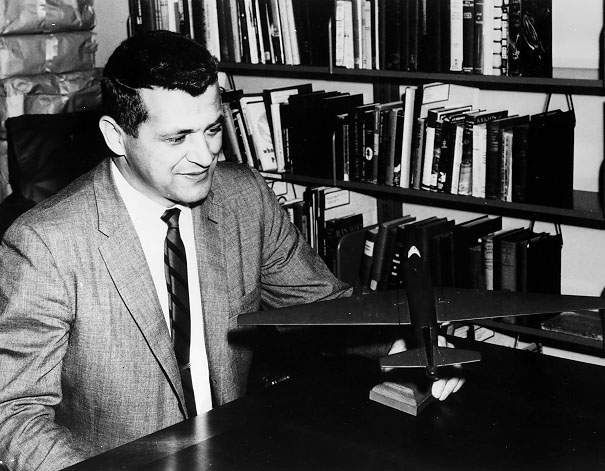 Neither Russia nor the US military wanted the arms reduction treaty. They were making too much money in arms production and research. Both may have colluded against their Presidents to use this incident to end the agreement.

Francis Gary Powers
(August 17, 1929 – August 1, 1977) was a
United States
pilot
whose
Central Intelligence Agency
[1]
U-2 spy plane
was shot down while flying a reconnaissance mission over
Soviet Union
airspace, causing the
1960 U-2 incident
.
Early life
Powers was born in Jenkins, Kentucky, to Oliver and Ida Powers. He grew up in Pound, Virginia, just across the state border. Graduating from Milligan College in Tennessee, in 1950, he was commissioned a second lieutenant in the United States Air Force. After completing his training, Powers was assigned to the 468th Strategic Fighter Squadron at Turner Air Force Base, Georgia, as an F-84 Thunderjet pilot. According to his son, he did not fly combat missions during the Korean War, because he was recruited by the CIA for his outstanding record in single engine jet aircraft.[2] By 1960, Powers was already a veteran of many covert aerial reconnaissance missions.
The U-2 Incident
Powers was discharged from the Air Force in 1956 with the rank of captain. He then joined the CIA's U-2 program. U-2 pilots flew espionage missions using an aircraft that could reach altitudes above 70,000 feet, making it invulnerable to Soviet anti-aircraft weapons of the time. The U-2 was equipped with a state-of-the-art camera designed to take high-resolution photos from the edge of the stratosphere over hostile countries, including the Soviet Union. U-2 missions systematically photographed military installations and other important sites.
Soviet intelligence, especially the KGB, had been aware of U-2 missions since 1956, but lacked the ability to launch counter-measures until 1960. Powers' U-2, which departed from a military airbase in Peshawar, Pakistan [2] and may have received support from the US Air Station at Badaber (Peshawar Airbase), was shot down by an S-75 Dvina (SA-2 Surface to Air) missile[3] on May 1, 1960, over Sverdlovsk. Mayak, the site of the 1957 Kyshtym disaster, was a goal of this mission.[4] Powers was unable to activate the plane's self-destruct mechanism before he parachuted to the ground and was captured.
Powers' U-2 plane had been hit by the first S-75 missile fired. A total of 3 had been launched; one missile hit a MiG-19 jet fighter sent to intercept the U-2, but which was unable to reach a high enough altitude. The Soviet pilot, Sergey Safronov, crashed his plane in an unpopulated forest area rather than bail out and risk his plane crashing into nearby Degtyarsk. Another Soviet aircraft, a newly manufactured Su-9 in transit flight, also attempted to intercept Powers' U-2. The unarmed Su-9 was directed to ram the U-2. The pilot attempted but missed because of the large differences in speed.
When the U.S. government learned of Powers' disappearance over the Soviet Union, it issued a cover statement claiming a "weather plane" had crashed after its pilot had "difficulties with his oxygen equipment." What CIA officials did not realize was that the plane crashed almost fully intact, and the Soviets recovered its equipment. Powers was interrogated extensively by the KGB for months before he made a confession and a public apology for his part in espionage.[5] The incident set back talks between Khrushchev and Eisenhower. On August 17, 1960, Powers was convicted of espionage against the Soviet Union and was sentenced to a total of 10 years, three years in imprisonment followed by seven years of hard labor. He was held in "Vladimir Central Prison", some 100 miles east of Moscow. The prison contains a small museum with an exhibit on Powers, who allegedly developed a good rapport with Russian prisoners there. Some pieces of the plane and Gary Powers' uniform are on display at the Monino Airbase museum, close to Moscow.
On February 10, 1962, Powers was exchanged along with American student Frederic Pryor in a well publicized spy swap for Soviet KGB Colonel Vilyam Fisher (aka Rudolf Abel), a Soviet colonel who was caught by the FBI and put in jail for espionage, at the Glienicke Bridge in Berlin, Germany.
In 2010, CIA documents were released indicating that "top US officials never believed Powers' account of his fateful flight because it appeared to be directly contradicted by a report from the National Security Agency, the clandestine US network of codebreakers and listening posts. The NSA report remains classified, possibly to spare the blushes of its authors. For it is now possible to piece together what really happened high over Sverdlovsk on May Day 1960 and to understand why America's most secretive intelligence agency got it so wrong".[6] According to the article cited, the still classified NSA report is incorrect based on the CIA documents that were declassified which show that Powers' account of being shot down at altitude was accurate.
Aftermath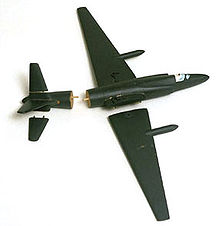 Powers received a cold reception on his return home. Initially, he was criticized for having failed to activate his aircraft's self-destruct charge to destroy the camera, photographic film, and related classified parts of his aircraft before his capture. He was also criticized for not using an optional CIA-issued "suicide pin" to kill himself. After being debriefed extensively by the CIA,[7] Lockheed, and the Air Force, on March 6, 1962, Powers appeared before a Senate Armed Services Select Committee hearing chaired by Senator Richard Russell and including Senators Prescott Bush and Barry Goldwater Sr. It was determined that Powers had followed orders, had not divulged any critical information to the Soviets, and had conducted himself "as a fine young man under dangerous circumstances."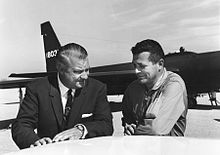 Powers worked for Lockheed as a test pilot from 1963 to 1970. In 1970, he co-wrote a book called Operation Overflight: A Memoir of the U-2 Incident. It is rumored that this led to his termination from Lockheed due to negative publicity for the CIA from the book. Powers became an airborne traffic reporter for radio station KGIL Los Angeles. He was then hired by television station KNBC to pilot their new "telecopter", a helicopter equipped with externally mounted 360 degree cameras.
Fatal crash
Francis Gary Powers died in 1977 in an accident. He had been covering bush fires in Santa Barbara County. As he returned, his Bell Jet Ranger helicopter, registered N4TV, ran out of fuel and crashed in the Sepulveda Dam Recreation Area several miles short of Burbank Airport.[8][9] At the last moment he may have noticed children playing in the area, and directed the helicopter elsewhere to prevent their deaths. His perfectly set-up autorotative descent was compromised, and he was killed. According to Powers' son, an aviation mechanic had repaired a faulty fuel gauge without telling Powers, who apparently misread it.
Powers was survived by his wife, two children, Dee and Francis Gary Powers Jr., and five sisters. Powers is buried in Arlington National Cemetery as an Air Force veteran.[8][10]
Honors
In 1998, newly declassified information revealed that Powers' mission had been a joint USAF/CIA operation. In 2000, on the 40th anniversary of the U-2 Incident, his family was presented his posthumously awarded Prisoner of War Medal, Distinguished Flying Cross, and National Defense Service Medal. In addition, CIA Director George Tenet authorized Powers to posthumously receive the CIA's coveted Director's Medal for extreme fidelity and extraordinary courage in the line of duty.[11] He was awarded the CIA's Intelligence Star in 1963 after his return from the Soviet Union.
T.H.E. Hill, in cooperation with Francis Gary Powers Jr., designed a Commemorative Cinderella stamp sheet for the fiftieth Anniversary of the U-2 Incident.[12]
Depiction in the arts
In 1976, Powers' biography (written with Curt Gentry) became a television movie, Francis Gary Powers: The True Story of the U-2 Spy Incident. Lee Majors played the role of Powers.
Ted Allbeury's novel Berlin Exchange (1987) fictionalizes the events that led to the exchange of Powers for the Soviet spy Colonel Abel in Berlin in 1962.
In June 1997, Gary Powers Jnr., along with a group of ex-CIA operatives and authors, visited Moscow's KGB Museum, located in the bowels of the infamous Lubiyanka building, the former KGB headquarters. Belgian TV report here: http://www.vimeo.com/22592390
Powers Jr. has dedicated his professional life to preserving Cold War history. His own museum, affiliated with the Smithsonian Institution and essentially a traveling exhibit since he founded it in 1996, has just found its first permanent home on a former Army communications base outside Washington. He also runs spy tours of the U.S. capital.
References
Further reading
Nigel West, Seven Spies Who Changed the World. London: Secker & Warburg, 1991 (hard cover). London: Mandarin, 1992 (paperback).
Sergei N. Khrushchev, Nikita Khrushchev and the Creation of a Superpower. State College, PA: Penn State Press, 2000. ISBN 978-0-271-01927-7.
Francis Gary Powers, Curt Gentry, Operation Overflight. Hodder & Stoughton Ltd, 1971 (hard cover) ISBN 978-0-340-14823-5. Potomac Book, 2002 (paperback) ISBN 978-1-57488-422-7.
External links