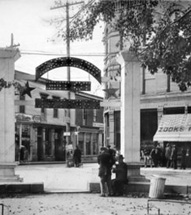 SANTA FE – The assassination of Leon Trotsky in Mexico City, where he was famously killed with an ice pick to the head, was organized from a drugstore in the US, according to a former CIA agent.
The KGB agent who planned the Bolshevik revolutionary's 1940 assassination first established a safe house in Santa Fe, 1,200 miles away in New Mexico, says a new book by intelligence expert E.B. Held.
"A Spy's Guide to Albuquerque and Santa Fe" by Held -- who is now director of intelligence at the US Department of Energy -- appears to confirm years of speculation about a spy hideaway here.
In a 1994 memoir, "Special Tasks," KGB spy master Pavel Anatolievich Sudoplatov wrote that a Santa Fe pharmacy served as a safe house for Trotsky's assassins.
Held's new book identifies the hideaway as Zook's Pharmacy, visible in archive photos although it was replaced in 1990 by a Haagen-Dazs ice cream shop.
"CIA operations officers just have to be students of local history because we have to know the environment that we're operating in," said Held, who began researching New Mexico's spy history in 2002 after retiring as a CIA agent.
Fifty-eight year-old Held's book covers atomic spying at Los Alamos, 1943-45; CIA turncoat Edward Lee Howard's defection in 1985 and accusations against Los Alamos engineer Wen Ho Lee in 2000.
But its most provocative chapter concerns KGB hit man Josef Grigulevich's hideaway from 1940-41.
Born in Lithuania, Grigulevich immigrated as a child with his family to Argentina where his father founded a chain of pharmacies.
He was recruited by Soviet strongman Josef Stalin's secret police as a university student in Paris and learned the assassin's trade during the Spanish civil war.
When he arrived in Santa Fe, he was 27, "cosmopolitan, and a ladies' man akin to James Bond," Held wrote.
Katie Zook, 33 and single, was running Zook's Pharmacy, established by her father, son of Lithuanian immigrants. She had long braids, loved fancy hats and traveled widely.
Held speculates that Grigulevich insinuated himself with the Zooks through their common roots and professions, and told them he was researching Latin American history.
That would explain his trips to Mexico. After he left the KGB, Grigulevich published 58 books on Latin American history.
After establishing himself in Santa Fe, Grigulevich left for Mexico City to implement two separate plans to assassinate Trotsky, a leader of Russia's 1917 October Revolution forced into exile after falling out with Stalin.
One involved the Mexican painter David Siqueiros, a founder of the Mexican Communist Party. The other relied on Ramon Mercader, a Spanish aristocrat.
In the pre-dawn hours of May 23, 1940, Siqueiros and two dozen armed men stormed Trotsky's home in the elegant Coyoacan district of the Mexican capital.
They machine-gunned the bedroom where Trotsky and his wife were sleeping, but the two escaped injury.
According to Held, Grigulevich had tricked Sheldon Harte, an idealistic young American serving as Trotsky's volunteer secretary and bodyguard, into leaving the gate open to the fortified compound.
Harte, who might have identified Grigulevich, was later kidnapped and executed.
Siqueiros was accused of the attempted assassination, but escaped to Chile with the help of the poet Pablo Neruda, who was then Chilean consul general to Mexico.
"Grigulevich disappeared, presumably slipping across the American border and hiding out in Santa Fe with Katie Zook," Held wrote.
On August 20, 1940, Mercader, posing as a Canadian businessman, plunged an ice pick into Trotsky's head. He died the next day.
Mercader, who maintained he killed Trotsky because he forbade him from marrying his secretary, spent 20 years in prison. Upon his release, he went to the Soviet Union where he was decorated as a hero.
"Grigulevich laid low in Santa Fe until 1941, then parted company with Katie Zook," Held wrote.
Held said there is no indication that Katie Zook ever knew what Grigulevich was doing, or even knew his real name. He died in 1988, and she died a decade later.
Friday, February 4th, 2011 -- 10:24 am